The Save Elephant Foundation encompasses many different volunteer projects in Thailand and Cambodia, including:
The Surin Project
Elephant Nature Park
Journey to Freedom
Elephant Sanctuary Cambodia
Dog & Cat Rescue Project
Pamper a Pachyderm
In November of 2009, I was fortunate to have volunteered at The Surin Project, the Elephant Nature Park, and walk the Journey to Freedom. From 2013 to 2014, I worked at the Elephant Nature Park, Elephant Sanctuary Cambodia, and the Dog & Cat Rescue Project.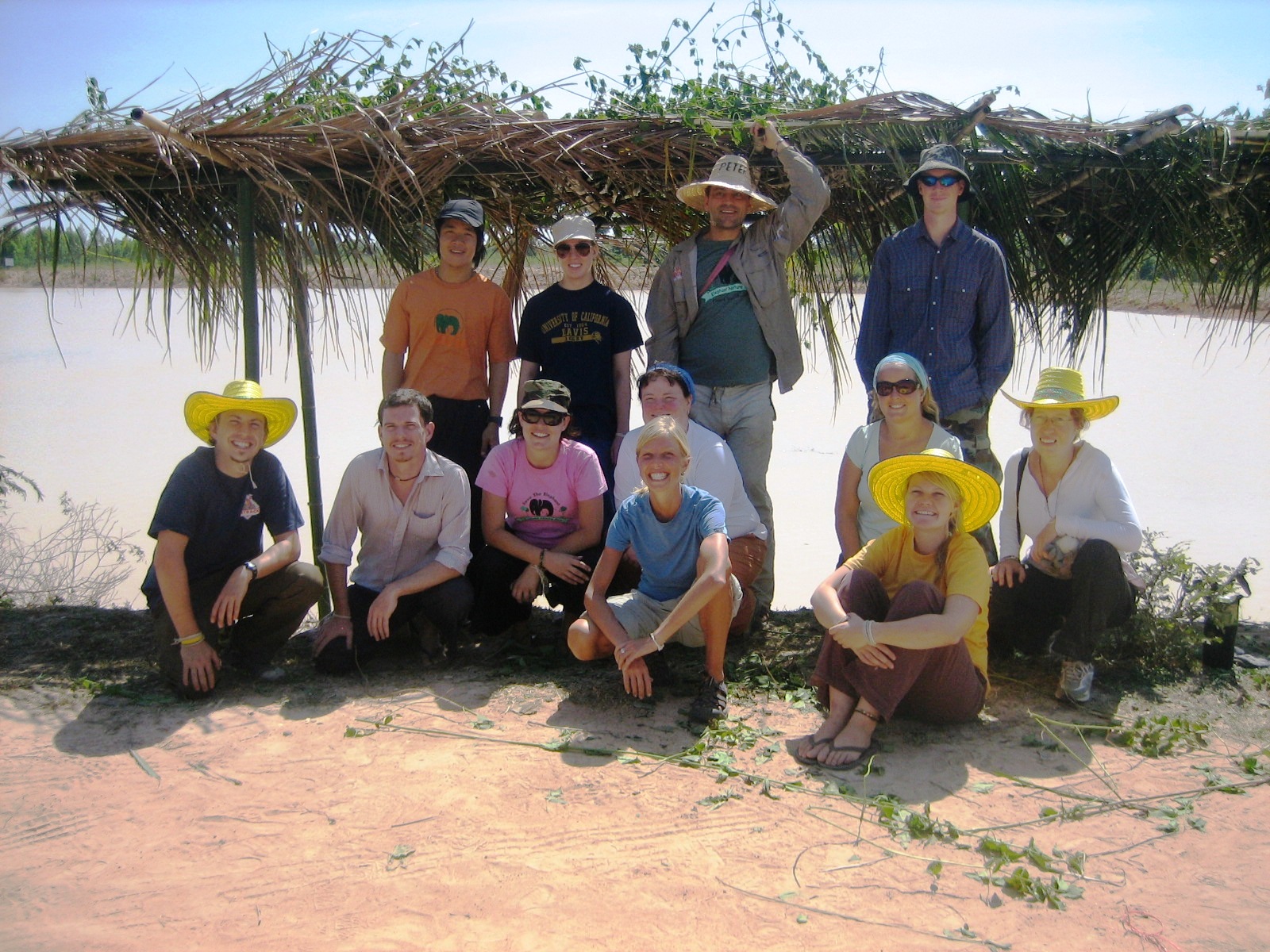 The Surin Project is a unique rural project that strives to improve the living conditions of captive Asian elephants by providing economic sustainability for their owners through responsible volunteer tourism. The project works alongside the Gwi community in the government run Surin Elephant Study Centre located in the village of Ban Tha Klang in the Surin Province in North East Thailand
The Surin Project's goal is to get some of the elephants in the study centre out into more natural surroundings where volunteers can walk alongside them and observe these magnificent creatures acting like elephants should be, in their natural environment. This offers the mahouts who own the elephants an alternative form of employment to elephant riding or elephant shows which are the main forms of income for many mahouts in the area to support their elephants and families.
In November of 2009, Dr. Sullivan was a volunteer for the Surin Project. Volunteer activities included living alongside the mahouts and their families, helping clean elephant dung in their living space, planting and cutting sugarcane and other food for the elephants, building a sun-sheltered viewing area from which volunteers can watch the elephants bathe and play, and attending an annual local festival where we encouraged other mahouts to join the Surin Project with their elephants.
Set in the beautiful Mae Taeng Valley of Northern Thailand, Elephant Nature Park is a sanctuary and home for disabled, blind, and orphaned elephants that have been abused as working animals. Many of the elephants here have endured painful pasts, working in the logging industry, street-begging in busy city centres, breeding for tourist companies, and trekking tourists on their backs while living chained in trekking camps. The Park is run purely on donations, paying for the food, housing, and comfort for these pachyderms.
Volunteers from all around the world pay to stay and help, for a day, week or even a month. Volunteers are rewarded with jungle-style accommodations, delicious buffet-stye vegetarian meals, and most of all the experience of witnessing elephants free in their natural environment, with the freedom to play, form social bonds, eat, bathe, and just be.
In November 2009, I was an elephant volunteer at Elephant Nature Park. Along with 25 other volunteers, some of our duties included planting and cutting sugarcane, bathing the elephants in the river, preparing elephant food, scooping elephant dung and cleaning their enclosures. We even visited a local school, learned how to speak Thai, helped teach the children English, and some of us were fortunate to walk the Journey to Freedom.
My veterinary volunteer duties included helping the Thai veterinarian Dr. Prasit care for the 36 disabled elephants. Our first patient was Somboon, which means special in Thai. Somboon was experiencing colic (abdominal pain). After several days of injections, walking, enemas, and care, we succeeded in getting Somboon to eat and recover. Being in her fifties, natural dental decay contributed to her colic, and fine-chopped fodder was prescribed. Our next patient was Ratree, meaning nighttime in Thai. Ratree was rescued from a breeding operation and arrived in ill-health after years of restraint. Her hips and legs were disfigured and painful, and she could barely stand. Her skin was abscessed from bull hooks, a weapon used to force elephants to perform unnatural behaviours. Ratree spent the rest of her years in the comfort and care of the herd and staff at Elephant Nature Park in peace.
Journey to Freedom was created by Elephant Nature Park to allow elephants owned by the Karen tribal people to retire from trekking camps and return to living in their villages. The project enables the elephants to live a more natural life and restores the close connection that the Karen people traditionally have with their herd.
When I was a volunteer in 2009, the Journey to Freedom was the original location where Lek Sanduert, founder of Save Elephant Foundation, rescued her first elephant. It was a tree house set back in the jungle mountains in the Mae Taeng Valley. Volunteers set foot with two elephants and their mahouts, hiking to this location. We camped here overnight, learning stories of the foundation of the project and learning the history of the land and hill tribes, while allowing the elephants to roam free in the jungle. Walking back to the park, we each saved a tree from illegal logging, by taking a a piece of monk's robe and tying it around a tree trunk, a local Thai tradition.
The Dog Rescue Project began as a result of catastrophic floods in Bangkok in 2011. In rented boats navigating the flooded streets, Elephant Nature Park volunteers rescued dogs trapped on rooftops and desperate for help. People had to abandon their sunken homes in a chance to survive, and dogs were left to fend for themselves. Over 2000 dogs were rescued to safety and 155 were brought to Elephant Nature Park to start their second chance at life. Large dog runs were built and enriched with ramps, pools, and shelter from the elements. A small animal hospital was constructed to allow veterinary staff and volunteers to care for any injured or sick victims.
I arrived in July 2013 to work at the Elephant Nature Park Small Animal Clinic. With the aid of my Thai nurse Pong, Thai and Burmese kennel staff, and a rotating mix of international dog volunteers, veterinary preventative care and medical protocols were instituted to benefit the canine residents. By this time, there were over 400 dogs living at the park. The clinic was also open to the public, where we routinely provided first aid medical care and sterilisation surgeries to dogs and cats owned by local villagers. Volunteer duties included feeding, bathing, walking, de-ticking, and socialising the dogs. Volunteers helped paint the clinic, clean runs, and perform office work like creating patient files, so that every dog had a name and corresponding medical file.
Our veterinary duties were often demanding. All dogs were vaccinated and given routine flea, tick and worm prevention. Daily treatments consisting of wound care, treatment of tick-borne diseases, treatment of skin, eye and ear infections, and over forty dogs were on daily medications for lifelong diseases such as hypothyroidism or heart conditions. Surgery in the afternoons was performed when the air conditioner was running during peak sun. Surgeries included sterilisations, wound repairs, tumor removals, and emergency procedures of the eye, digits or skin. Diagnostic testing was limited to bloodwork that we sent to a lab, and radiographs, which we referred to a veterinarian we worked alongside in Chiang Mai. Groups of international student veterinarians visited, assisted, and learned about the shelter medicine. Every animal was given the best possible treatment for survival, pain relief, and supportive care.
The Dog Rescue Project is an amazing experience and example of different cultures, skillets, backgrounds and intent all colliding to help rescue, love, and save animals.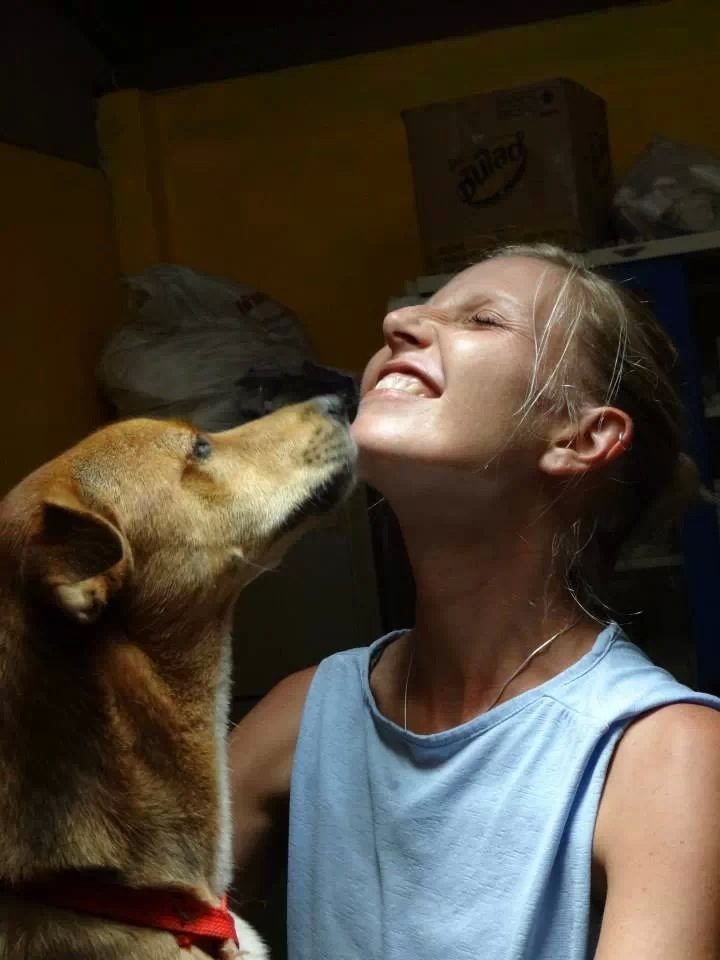 The Cat Rescue Project started with a few resident cats living at Elephant Nature Park, and quickly grew when a demand for feline veterinary care from feral populations, village populations and pets, and aiding other rescue organisations in Thailand was realised. The park built a dedicated fenced-off area where free-roaming feline habitants could relax without the fear of dogs, and enter and exit as they pleased. In this project, veterinary personnel and volunteers help in the management and care of cats.
During my work at Elephant Nature Park between 2013 and 2014, a feline ward was added to a quiet, isolated area of the Small Animal Clinic to be used exclusively for cats. Feral cats were trapped, sterilised, vaccinated, and released. Isolation was always a concern when contagious infectious upper respiratory pathogens affected the cat colony. Volunteers helped disinfect and design the feline ward. Common ailments affecting the cats included conjunctivitis, skin wounds, infectious upper respiratory pathogens, and infectious viral infections such as Feline Immunodeficiency Virus and Feline Leukemia Virus. Volunteers learned the many differences about the restraint and therapy specific to cats, namely that cats are not small dogs!!
Elephant Sanctuary Cambodia
Save Elephant Foundation is working within the Cambodia Wildlife Sanctuary to protect and conserve 1 million acres of jungle habitat, approximately one hour north of Angkor Wat in Siem Reap. The project spans 25,000 acres and aims to protect the land and all of the native species, flora and fauna that call it home, including tigers, monkeys, buffalos, and of course, the Asian elephant. Volunteers will help this project help with its main goals, namely tree planting, restoring the region's forest, and combatting the illegal logging that has taken place. Other goals for the Elephant Sanctuary Cambodia are plant and wildlife identification, seed collecting, trail-making and education outreach.
On my birthday in 2014, Darrick Thompson and I flew from Chiang Mai to Siem Reap to the Elephant Sanctuary Cambodia Project. During this trip, I sterilised a few of the resident dogs. One of the elephants had a vaginal infection requiring medication. We also hiked for six hours making trails through the forest, examined and identified local flora and fauna, and ensured that no illegal poaching was occurring. While land mines in Cambodia are still a potential risk, luckily we didn't come across any! Other aspects of the project explored were the care and health of its primate residents, structuring and planning for the vegetable garden being planted, and staff training of the local Khmer workers on the project.
Elephants, Pigs, and Buffalo, oh my!
The Elephant Nature Park strives to help animals of all types. During my recent stay at the park, I was fortunate to not only have helped in the care of the elephants, but also the resident water buffalo, monkeys, pigs, civets, and both a Bengal Slow Loris and a Sunda Slow Loris whom were appropriately homed in a primate reintroduction facility. All critters great and small are created equal by everyone at the park. This is a wonderful place!
The elephants at the park are trained by positive reinforcement, and each is supervised by only verbal command and care by their own mahout (elephant keeper). The park staffs an elephant trainer that helps the elephants learn how to present feet, and other body parts, working for rewards (namely bananas). This aids the veterinary staff in their treatment and care when they are sick, injured, or disabled and requiring daily or weekly treatments. One of the most exciting elephant moments I witnessed at the park was the birth of a baby boy elephant named Yindee (meaning 'welcome' in Thai). Yindee was under close watch by his mother and Ma Lae Tong, his adoptive auntie. This was also around the time when the park welcomed the television star Owen Wilson as a guest of honour, who loved his stay at the park and got to meet Yindee up close and personal!
The water buffalo roam free on the property. One of the veterinary tasks I participated in, was helping in the surgical sterilisation of the male water buffalo, to help control their overpopulation and ensure there were enough food resources (grass) for both them and the elephants and the buffalo. This proved challenging for myself, as although in veterinary school we are training in both large and small animals, I am comfortable working with smaller critters. The veterinarians on staff at the time, Dr. Prasit, Dr. Rinkou, Dr. Erica Ward and myself, tackled the buffalo in an organised fashion, with the help of many of the locals and got the job done!
The pigs required having their tusks cut, as their canine teeth that prove less harmful in domesticated animals, grow long and sharp and should an altercation amongst two males occur, this often resulted in skin wounds and other injuries. My nurse Pong and I would sedate the pigs for tusk removal. To give injections, we often used food as a lure to get them into stalls where we could safely inject them with antibiotics and pain killers.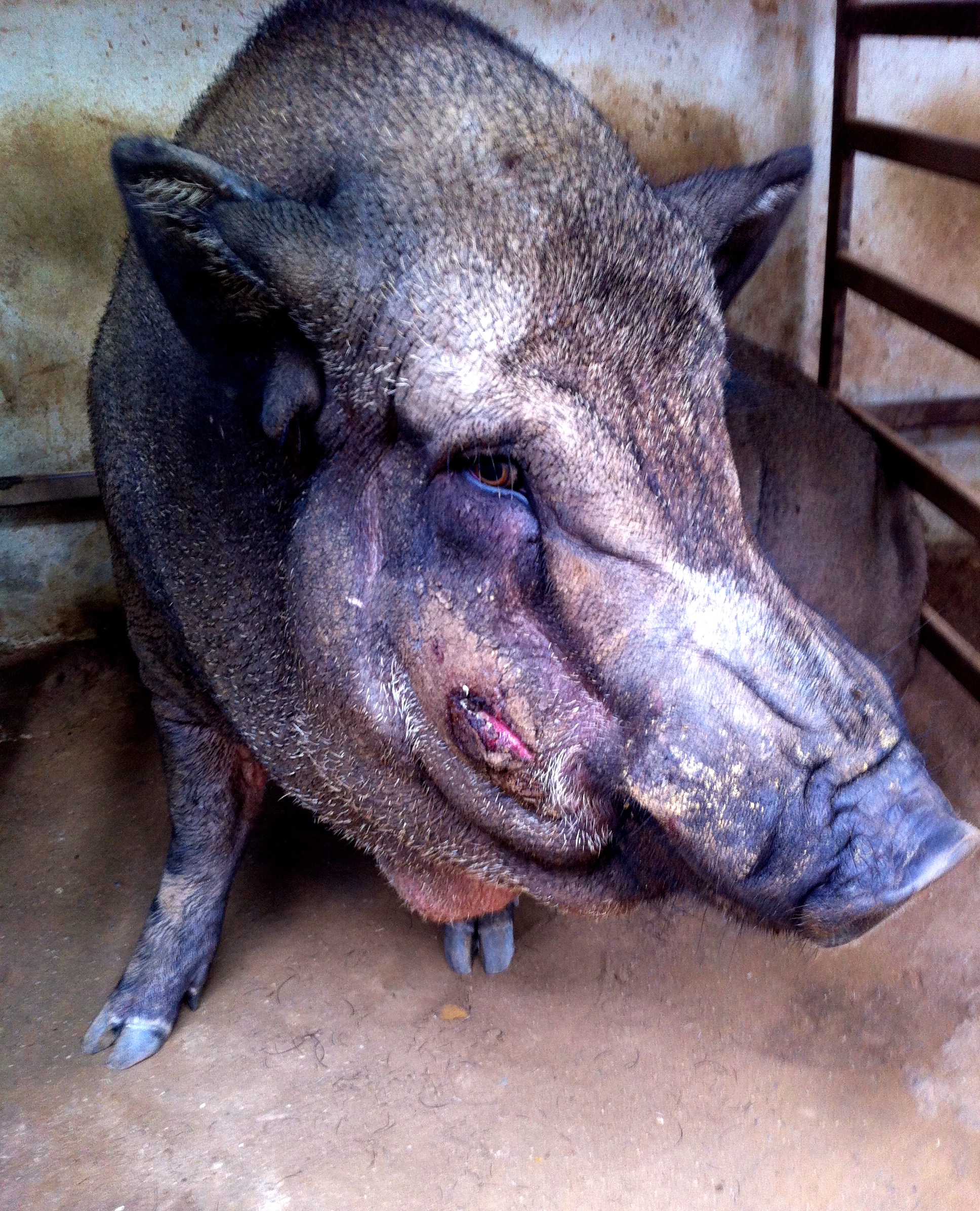 The resident monkey at the time, Caesar, came from a life of emotional grief. While at the park, he had lots of stimulation living in semi-natural enclosure enriched with tree swings, ramps, and toys, and viewed over the peacocks and other fowl living at the park. Caesar took his deworming medication in orange juice, his favourite treat! Another monkey of a different species, Curious George, came along after having been rescued from a animal centre almost like western pet shops. George receives daily love and affection and training from the park's carer Lilly Cheung. While always curious, George also learned the ropes of being a juvenile monkey, how to eat, play, climb and fend for himself!
Both a Bengal Slow Loris and a Sundra Slow Loris were rescued from the waiting room of a doctor's office, where they were put on display in terrariums. The Bengal Slow Loris had a severe tooth infection and the Sundra Slow Loris was so scared it barely ate initially. Thanks to the care and generosity of Lek's friend Bo, a Thai television model who is a great supporter and friend to the park, these Loris were not only rescued, but are in the care of reintroduction sanctuaries that cater to their nocturnal behaviour and feeding habits.
If the Elephant Nature Park isn't tempting you enough to come visit Thailand, then the country will speak for itself. Thailand is a magnificent place like no other. The people and culture are loving and welcoming; the food is aromatic and delicious and will have everyone enjoying a bit of spice with their meals; the landscape varies from mountainous jungle to beaches or hustling cities. Their dedication to buddhist ways and tradition will open your eyes to a path of no harm.; temples and architecture will keep your eyes inspired and hearts warm and peaceful.
Thailand is one of the most special places I have lived. Staying at the Elephant Nature Park provided a home, a sanctuary for humans and animals, a Thai family of friends, and an eye-opening reality into a culture of traditions I had not yet experienced firsthand. Chiang Mai is a beautiful city nestled around a mountaintop temple called Wat Phra Tat Doi Suthep, bustling with life, entertainment, street food, local markets, and an appreciation for the international diversity that visits and dwells there.
ประเทศไทย มัก จะอยู่ใน หัวใจของฉัน
Thailand will always be in my heart.